NBA Rumors: Latest Buzz Around Blake Griffin's Future, Rudy Gay Trade and More
With a little less than a month gone in the 2016-17 NBA campaign, general managers are getting a better feel for their respective teams.
That could increase the likelihood of trades in the coming weeks as front office personnel identify weaknesses on their rosters.
Rudy Gay is among those consistently discussed in trade deals, while fans are already beginning to speculate about the futures of impending free agents—Blake Griffin most notably.
Below are updates regarding the two veterans, in addition to an update about the Cleveland Cavaliers' pursuit of a backup point guard.
Griffin Unlikely to Offer Thunder a Lifeline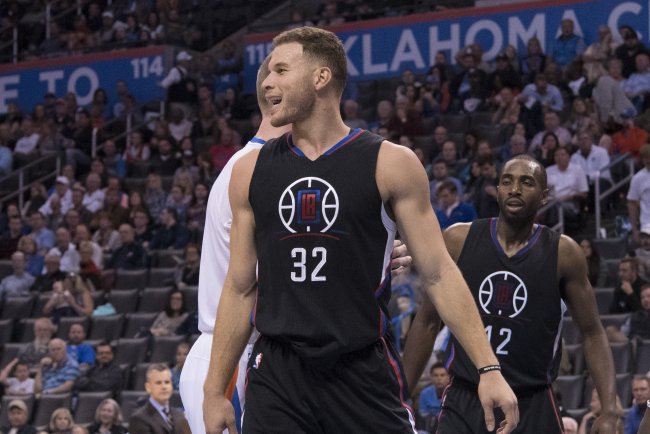 With Kevin Durant's move to the Bay Area, the Oklahoma City Thunder are in desperate need of a second star to pair with Russell Westbrook. Otherwise, the Thunder will be unable to climb to the top in the Western Conference.
In a perfect world for Oklahoma City, the team signs Griffin this offseason. The five-time All-Star can become a free agent after the 2016-17 season. He's a native of Oklahoma City and played two years for the Oklahoma Sooners.
However, ESPN.com's Zach Lowe provided a cold dose of reality for Thunder fans.
"There is no sign [Griffin] wants to come home, per several sources," Lowe wrote last Thursday.
It's not all that hard to see why Griffin would shy away from returning to Oklahoma.
The Thunder couldn't get over the hump with two top-10 talents in Durant and Westbrook, and the team's current supporting cast isn't demonstrably better than it was when Oklahoma City fell short of the NBA Finals in recent years.
General manager Sam Presti signed Victor Oladipo to a four-year, $84 million extension in the hope Oladipo could be a solid backcourt complement to Westbrook. As CBSSports.com's Chris Towers argued, however, the pairing may not make much sense.
Oladipo taking more playmaking can save Westbrook some wear and tear, but is there any reason to think that would make them better?
The Oladipo extension was evidence of how difficult a time Presti will have finding the players to properly surround Westbrook. The Thunder may consider themselves contenders for top free agents such as Griffin, but sealing the deal won't be easy after what is likely to be a significant step backward in the post-Durant era.
Thunder Still Showing Interest in Gay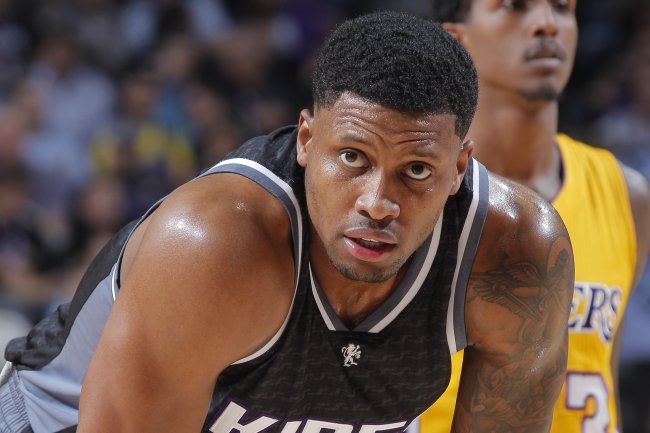 Of course, that won't stop Presti from attempting to make moves. Basketball Insiders' Steve Kyler tweeted Monday that the Thunder remain interested in trading for Gay but that the Sacramento Kings aren't prepared to trade him right now.
In his piece, Lowe explained why the Thunder would target Gay: "They remain interested in bigger wings, including [Gay], sources say, in part because such a player would slide everyone down to their intended spots: Oladipo to the bench, and Andre Roberson back to defending shooting guards."
Gay would give Oklahoma City a proven scorer on the wing. He's averaging 20.5 points this season on 48 percent shooting, including 41.7 percent from beyond the arc, making him a major offensive upgrade over Roberson.
The problem for the Thunder—and any other team looking at trading for Gay—is that they'd be buying extremely high on the 30-year-old. For his career, Gay has shot 45.3 percent from the field and 34.5 percent from three-point range.
At some point in 2016-17, Gay will fall back to earth and regress to the player he has been for the bulk of his time in the NBA. He'd still provide value on the offensive end but not to the level he's currently performing for Sacramento.
As long as the price is right, Gay could be a solid addition for the Thunder, but Presti should be wary of giving up too much in the pursuit of short-term gains.
Backup Point Guard May Not Be Priority for Cavaliers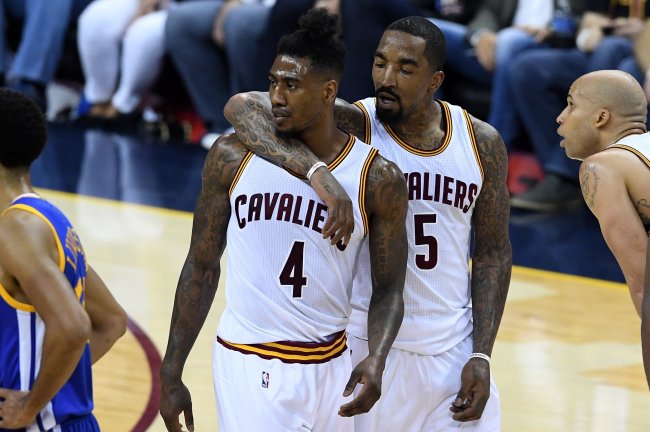 One of the few problems for the defending champions is behind Kyrie Irving on the depth chart. With Kay Felder as the backup point guard, Cavs head coach Tyronn Lue has had to get creative with how he provides Irving a break on the floor.
Last Friday, Cleveland.com's Joe Vardon reported general manager David Griffin is exploring ways to bolster the point guard position.
"All indications are (for now) that they will try and go the trade route to get a backup to Kyrie Irving," Vardon wrote. "Could be around Dec. 15, when free agents signed over the summer can be traded. I'm just throwing a name out there—Dallas' Deron Williams is on that list. So is Orlando's D.J. Augustin."
A number of factors are working against David Griffin in the event he's trying to add another point.
According to Spotrac, the Cavaliers are a little more than $35 million over the salary cap. Although trade exceptions give the team a little more financial flexibility, Cleveland's options are limited by its cap number.
In addition, the Cavs have few assets that could provide a worthwhile return. The franchise can't keep trading draft picks, and its 2018 first-rounder is already owned by the Portland Trail Blazers. Iman Shumpert has rebounded somewhat after a disappointing 2015-16 season, but few teams would be willing to surrender a productive point guard in order to get him.
The Cavaliers' best move is to stand pat barring a ridiculously generous offer. As Kyler tweeted, the Cavs have plenty of capable ball-handlers who can spell Irving for stretches, and the lack of a proven backup point has hardly hindered Cleveland after its 10-2 start to the year.
Source: Bleacher Report
Comments
comments